at Konsthall C this weekend
One day symposium investigating collective practices and their relationships to political organising. Saturday 5 December 11am- 5pm
Welcome to a one day symposium saturday 5 December, 11-5pm which focuses on the work of working together, political organisation and collective making.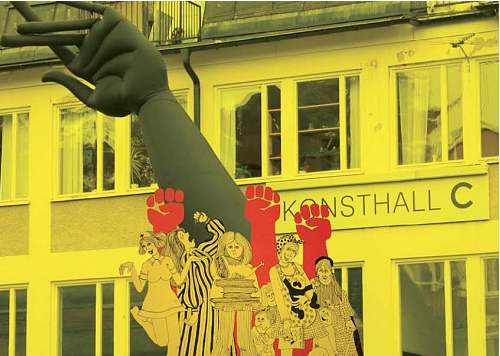 The symposium is particularly inspired by the 'Womens day off' a strike in Iceland in 1975 that sought to place the raise the visibility of women's work on to a national agenda. The strike successfully brought the invisible work of the home to public display. The strike is one of the most impressive acts of women's collectivity to challenge inequality in Northern Europe.  Konsthall C's Women's Day Off symposium is held on its 40th anniversary.
The symposium uses the legacy of the "Womens Day Off" strike, as a point of departure to focus on the potential of collective action. The symposium readdresses questions raised by the original strike revisiting how the issues of "work" and "gender" have changed since 1975 and the implications this has for collective mobilisation.
Contributors to the day include: Maiko Tanaka, co-initiator of the project The Grand Domestic Revolution, Þorgerður Ólafsdóttir, Becky Forsythe and Heiðar Kari Rannversson from Iceland's artist run museum NYLO (The Living Art Museum). Kamilla Askholm from Copenhagen's CAMP (Centre for Art on Migration Politics) and the artist, journalist and fashion designer Dady de Maximo.