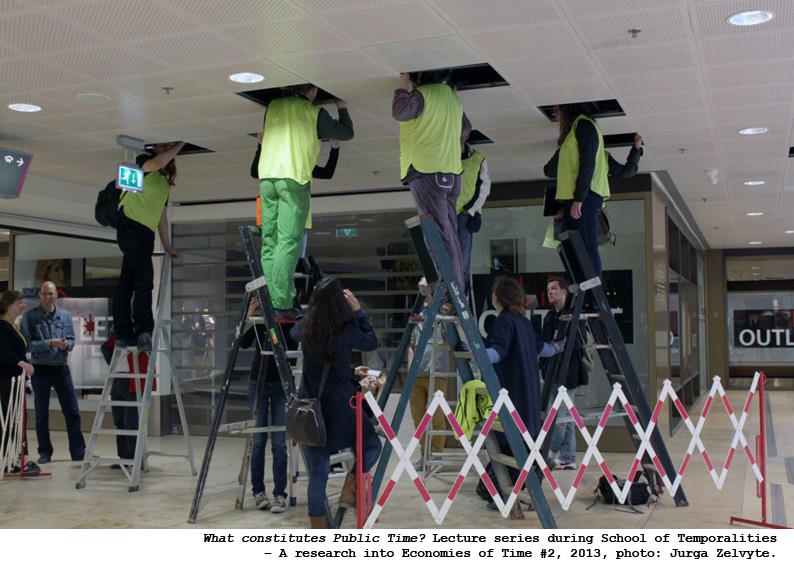 Time: Wednesday 17 September 2014, 5 – 6 PM
Venue: Konstfack, Mandelgrensalen (next to Svarta havet)
LM Ericssons väg 14, Stockholm. T-bana: Telefonplan
The ninth Organising Discourse lecture continues to explore approaches to Research and Education as forms of discursive platforms.
Utrecht based artist Annette Krauss will present her artistic practices with regards to hidden and alternative curricula in educational settings and discusses the aspect of learning and unlearning with regards to hierarchical knowledge systems.
ANNETTE KRAUSS
… IT CONSISTS NOT IN MERELY REVEALING THE INVISIBLE
In her research-based practice Krauss addresses the intersection of art, politics and everyday life. Her body of work emerges through the intersection of different media, such as performance, video, historical and everyday research, pedagogy and text. Revolving around informal learning and (institutionalized) normalization processes her artistic work approaches the questions of how these processes shape our bodies, the way we use objects and engage in social practices. In other words: she investigates art's capacity of going beyond routine patterns and habits of thinking and doing when it comes to how we perceive the world, what we sense, what we don't see and why.
"These questions function as a spotlight with which I explore different dimensions of vision. On one hand, the concept of vision points towards the visionary potential of art to imagine things otherwise. On the other hand, vision is not identified as purely discursive here, but as embodied processes that are saturated with taken for granted norms and conventions. What interest me is the constant questioning and negotiation of (in)visibilities that contribute to the production of the social around us."
ANNETTE KRAUSS has (co-)initiated various long-term collaborative practices (Hidden Curriculum / Read-in / ASK! / Read the Masks. Tradition is Not Given / School of Temporalities). These projects reflect and build upon the potential of collaborative practices while aiming at disrupting taken for granted "truths" in theory and practice.
Recent exhibitions include [2014] Uneducated, Counihan Gallery Melbourne; New Habits, Casco Utrecht; Regimes of Memorizing, SMBA Amsterdam; [2013] Randzonenlesung Kunstverein Wiesbaden; In Search of the Missing Lessons, Whitechapel Gallery London; [2012] (In)visibilities, The Showroom London, GDR goes on – Grand Domestic Revolution, Casco Utrecht; Amateurism, Kunstverein Heidelberg; [2011] For Einhoven Van Abbemuseum Einhoven/NL; We are Grammar Pratt Gallery/New York; School Days, Lewis Glucksman Gallery/Cork; [2010] Manufacturing Today, Trondheim; 2 oder 3 Dinge, IG Bildende Kunst, Vienna ; Extra-Curricular, JMB Gallery/Toronto; [2009] Momentum, Nordic Biennale; World in Hand, Kunsthaus Dresden; [2007] Hidden Curriculum, CASCO, Utrecht; Soft Logics, Künstlerhaus Stuttgart.