Joanna van der Zanden: REPAIR SOCIETY: RINGVÄGEN
A temporary open research platform
Time: 1 – 3 October, 2015
Venue: FFAR (forum för arkitektur)
Ringvägen 141 Stockholm. T-bana: Skanstull
Course workshop with Joanna van der Zanden and guests
Repair Society: Ringvägen is a temporary open research platform and workshop about Repair It's related to the on-going project 'Repair Society' and part of Organising Discourse. Between 30th September and 3rd October it manifests itself as a public space for research, workshops, debates and presentations at FFAR (forum för arkitektur), Ringvägen 141 in Stockholm.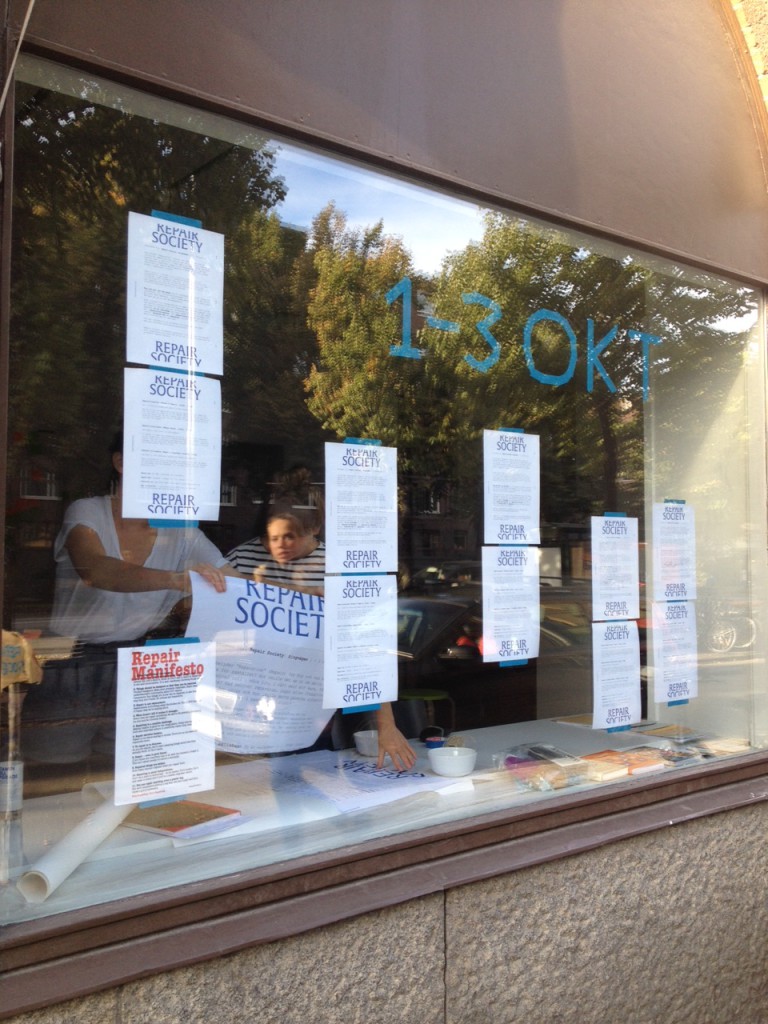 Repair Society: Ringvägen
"What would society look like if repair had a central role in our lives? In our thinking and acting? Repair is not just about fixing things. The act of repair has cultural, social, economical effects and benefits. Repairing is about the constant struggle to make things work, from language, to things, to relations between people, to systems in society. In fact, repairing is a way to go forward; it bridges old and new, past and future, and could therefore be seen as a sensitive way of thinking about future forms of society.
The big question is: How can we give up the steadfast idea that innovation is connected to the "new and shiny?" Imagine a society built on improvisation, imperfection, resilience, differences, and care – a society based on reflexive action rather than rushing forward. Could that be a Repair Society? Embracing real life, with all its up and downs, the future imperfect, instead of the myth of the perfect. That's how most people live their lives anyway; nothing nostalgic about that."
Joanna van der Zanden, co-founder of Repair Society
Repair Society: Ringvägen is a temporary open research platform and workshop about Repair, situated at FFAR in the local neighbourhood around the eastern part of Ringvägen in central Stockholm. It will manifest itself over a few days and evenings with a programme of on going research activities, including public events with meetings, discussions and presentations (please see below for the programme an opening hours).
The workshop will inquiry and discuss the notion of Repair from the very local perspective and in various ways bring forward issues and ideas that can help shaping visions for alternative future development, locally and in society at large. This will involve obvious issues such as material aspects of everyday life but also around immaterial social structures.
Through the perspective of repair, how can we find an alternative approach to production, distribution and consumption of products and services? What about issues related to the urban development, planning, implementation of change and maintenance? How can this way of thinking affect the social fabric of this local neighbourhood? How can people, issues and skills connect and how can knowledge be shared?
 These questions intertwine material and social ecology and bring issues of how we can have an impact on society through local initiatives, self-organisation, participation, collectivism and counter measures.
'Repair Society: Ringvägen' is organised by Organising Discourse with Amsterdam based curator and co-founder of 'Repair Society'  Joanna van der Zanden. The workshop is developed with kind support by Iaspis and FFAR.
Read more about the Repair Society: Ringvägen PUBLIC PROGRAMME>
Dowload a invitation flyer from here:    English    Swedish
Read more about Repair Society: http://www.repairsociety.net/
JOANNA VAN DER ZANDEN works as an independent curator and creative director on cross-disciplinary (social) design projects. She is particularly interested in the exploration of cultural formats where the public at large gets involved in the curatorial process of research, questioning and making. It is her view that contemporary cultural centres should – at the best – function as catalysts to stimulate critical and creative thinking and making and enlarge time and space for experimentation.