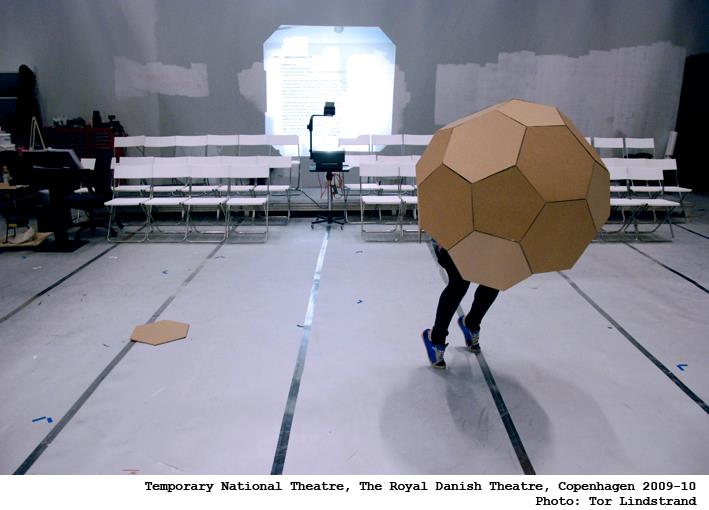 Thursday 13 February, 5 – 8 PM at Konstfack (Mandelgrensalen)
More open lectures to come. Please share this page with friends and colleagues!
The second Organising Discourse lecture session is focusing on self-organisation and collaboration as ways of constructing discursive space. Presentations from the social thinker and writer Dougald Hine, graphic designer Maryam Fanni, artist Sarah Degerhammar and architect Tor Lindstrand, covers different examples from the small self-initiated project to forms of collaboration, networks and collective manifestations to strategies of operating within existing institutional structures.
DOUGALD HINE:
SHARED DREAMS, SHARED RESPONSIBILITIES: SOME CONVERSATIONS THAT CAME TO LIFE
"Like just about everything worthwhile I've been involved in, Spacemakers grew out of a particular kind of conversation: unhurried, drawn out over time, beginning with an open invitation to all kinds of people, not oriented to a preformed objective, but given focus by its subject."
As a social thinker, writer and the kickstarter of a diversity of projects and organisations, I have been involved in and sometimes responsible for creating a series of groups and networks.
In this session, I will draw on my experience as the founder of the utopian regeneration agency Spacemakers, responsible for reanimating high streets, markets and other public spaces in London, and as co-founder of the Dark Mountain Project, an international network centred on the Dark Mountain journal, whose manifestations have also included festivals, exhibitions, local meet-ups and music releases.
Both of these projects are the visible flowering of a less visible network of conversations and collaborations, some of which I will try to trace here. This will take in the story of such experiments as the Pick Me Up email-zine, the London School of Art & Business, the Temporary School of Thought and the University Project; the interrelation between online networks and face-to-face activity, so that blog posts led to meet-up groups that seeded organisations; and some attempts to theorise the qualities of such convergences, including Brian Eno's concept of scenius.
I am fascinated by the process by which ideas (sometimes) come to life, the journey from dreams to responsibilities, and the reasons why some conversations have consequences that last a lifetime, while others turn out to be dead ends. I am sceptical of processes designed to achieve this kind of alchemy, but I do believe that there is a craft of bringing people together and making things happen, and I look forward to sharing what I've learned of this craft and seeing where it connects to your experiences.
MARYAM FANNI AND SARAH DEGERHAMMAR:
BOENDEMONOLOGEN (SODERORTS INSITUT FOR ANDRA VISIONER / JORDBRO STADSTEATER)
Maryam Fanni and Sarah Degerhammar will present their two groups and resistance strategies Soderorts Institut For Andra Visioner and Jordbro Stadsteater, both dealing with the privatizations of the city and making visible the processes behind and the effects of it and what it does to the democracy.
This will be followed by a presentation of their joint project Boendemonologen ("Citizens monologue") that deals with the same issues but focuses further on the event-based so called democratic dialogues that are being provided by the municipality and housing companies today, and also how artists are being instrumentalized in city planning. Who are defining the problems and who provide solutions? What is possible to talk about within the given frames?
TOR LINDSTRAND:
TOWARD AN INSTITUTION
"At first I thought it was revolving; then I realised that this movement was an illusion created by the dizzying world it bounded. The Aleph's diameter was probably little more than an inch, but all space was there, actual and undiminished. Each thing (a mirror's face, let us say) was infinite things, since I distinctly saw it from every angle of the universe. I saw the teeming sea; I saw daybreak and nightfall; I saw the multitudes of America; I saw a silvery cobweb in the centre of a black pyramid; I saw a splintered labyrinth (it was London); I saw, close up, unending eyes watching themselves in me as in a mirror; I saw all the mirrors on earth and none of them reflected me."
(from 'The Aleph' by Jorge Luis Borges)
How do we transform existing institutions and how do we organize different kinds of institutional frameworks? First we should realize that what drives institutions, what they really want, is to institutionalize whatever matter filters through them, to tame and domesticize knowledge. They do this through being professional, static, essential and successful. They operate on commissions, performing a service to clearly stated aims — whether political or economical. They materialize themselves through re-producible and formal aesthetics.
Instead, what we are looking for is an institution that is to be described as hobbyesque, temporal, ephemeral and destructive, an institution that operates through unsolicited work and insists on being disobedient — producing, rather than representing politics and economies.
When producing work within or for institutions it is important to realize that they are much more porous then they appear to be. The relationships within an organisation, the spatial configuration and how it is programmed are often more open — even if only for a brief moment — to transformation and distortion then we tend to believe. With a starting point in projects made for large cultural institutions this presentation will be about strategies used in order to temporarily disrupt the traditional boundaries between art, artist and institution. Not necessarily in order to produce an institutional critique, but rather to trace other possible organisational modes for being together differently.
DOUGALD HINE is a social thinker, writer and kickstarter of projects and organisations. These have included the utopian regeneration agency Spacemakers, the web startup School of Everything and the Dark Mountain Project, as well as events such as Redrawing The Maps (Kings Cultural Institute, 2012) and Universities: Past & Future (HUB Westminster, 2011). From 2011-13 he was thinker-out-of-residence with the Scarcity and Creativity in the Built Environment project at the University of Westminster. He is Senior Visiting Fellow in Higher Education Policy at the University of Lincoln and has advised on the future education for Demos and the Young Foundation. In 2012, he was listed by the UK's national innovation agency NESTA as one of Britain's 50 New Radicals and his work
featured as one of thirteen case studies in the EU's Team Culture 2012 report into 'the role of culture in a time of crisis'. He is a regular speaker at universities, art and architecture schools across Europe, as well as for organisations including Google, the European Commission, the British Council, Design for London, the Royal Institute of British Architects and the RSA.
His books and pamphlets include 'Uncivilisation: The Dark Mountain Manifesto' (with Paul Kingsnorth, 2009), 'Despatches from the Invisible Revolution' (ed. with Keith Kahn Harris, 2012) and 'The Crossing of Two Lines' (2013), a collaboration with Stockholm-based artist duo Performing Pictures. He grew up in the north-east of England, studied English Literature at Oxford and worked as a radio journalist for the BBC. In 2012, he left London and is slowly arriving in Sweden.
MARYAM FANNI is a freelancing writer and graphic desginer based in Stockholm. She has a BA in Graphic design and Illustration from Konstfack, University College of Art, Crafts and Design, Stockholm, 2013.
Currently she's working with communication for Konsthall C and guest-editing at Svenska Tecknare.
www.maryamfanni.se
www.sifav.wordpress.com
SARAH DEGERHAMMAR is an artist based in Stockholm. She has a BA in Fine Arts from Konstfack, University College of Art, Crafts and Design, Stockholm, 2013.
She is a founder and member of the performance group TIR and Jordbro Stadsteater. Currently working with sound artist Mira Eklund and artist Petra Bauer at Tensta konsthall.
TOR LINDSTRAND is an Assistant Professor at the Royal Institute of Technology (KTH-A) and a co-owner of the office of Larsson, Lindstrand and Palme. He has been working on projects oscillating between architecture, visual art and performance in numerous cultural contexts, among others TATE Liverpool, Venice Architecture Biennale 2008 and 2010, Steirischer Herbst, Shenzhen and Hong Kong Bi-city Biennale of
Urbanism/Architecture 2009, VOLTA Basel, Performa New York, Royal Dramatic Theatre Copenhagen, NAI Rotterdam, Stockholm Architecture Museum and Storefront New York. Together with choreographer Marten Spangberg he initiated International Festival, a practice working on context specific projects spanning from buildings, publications, films, installations, public interventions and situations. In 2010 he founded
Economy together with Jessica Watson-Galbraith, a Swedish-Australian studio working with architecture, art and performance. He is currently involved in a collaborative research project on Power, Space and Ideology at KTH-A and Södertörn University.